Bishop Verot Knocked Out Of Regionals By Heritage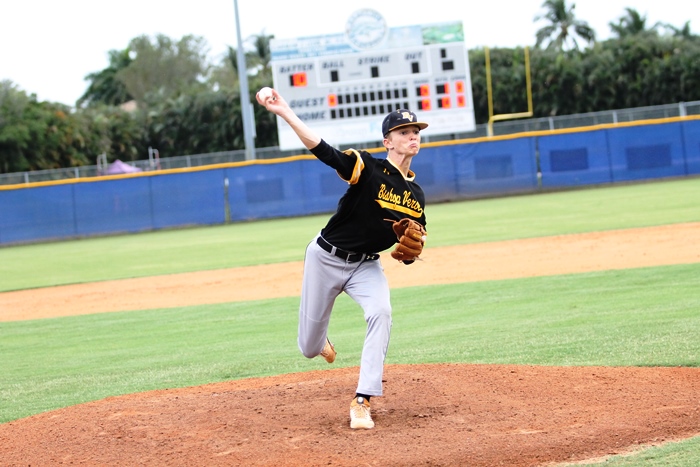 The American Heritage Stallions have looked and played like the best team in Palm Beach for the entire season, and on Tuesday night, they were at it again. The Stallions received a 14 strikeout performance by Nelson Berkwich in a 3-0 4A regional semifinal win over Bishop Verot.
"Nellie's performance was great. There isn't much more to say than that," said Heritage Manager Carm Mazza. "He was hitting his spots, and mixing his pitches, and really did again what he has been doing for us all year."
Bishop Verot, who is normally in the role of favorite come playoff time, came into this matchup knowing they would need to play the perfect game to beat the seasoned Stallions.
In the first inning, Vikings starter Kelle Grau ran into a bit of trouble. Lead-off hitter Stanley DeMartinis walked, and after an out, Carmine Lane doubled. Clean-up hitter Jacob Lojewski then launched a three-run home run. The shot would be all the offense the Stallions would need on the night.
"When you come into games like this against teams with the kind of arms they have, you hope to put up a couple zeroes early and then take your chances later in the game," said Verot Manager Austin Flores. "That home run in the first inning obviously put us in a big hole, and even though we pitched great after that, it was too much to overcome."
The Vikings staff did not allow a hit after the Lojewski home run.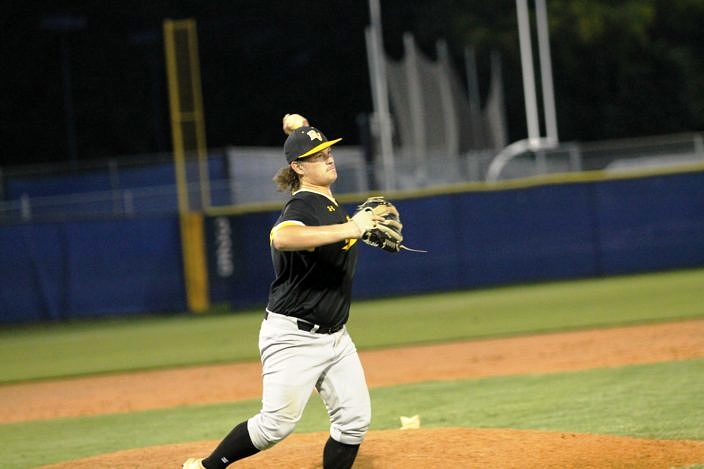 While the pitching staff settled down, the offense could get nothing going all night against Berkwich. The junior left-hander went 6.2 innings, striking out 14 and not issuing a walk until the seventh inning. It was the type performance that has come to be expected from the lefty.
"With those three runs in the first, we were very confident that would be all that Nelson needed," said Mazza.
For Berkwich, the runs in the first have become somewhat of a norm.
"Our offense has done that a lot this season," he said. "We score a few runs in the first couple innings and then our pitching and defense takes over from there. It has been our recipe for success."
The home run from Lojewski was the third in three playoff games for the junior, who seems to have found his power stroke at just the right time.
"I struggled earlier in the year," said Lojewski. "So it has been nice the past few games to come threw for our team. I am seeing the ball well right now, and we are one game closer to where we want to be."
Where they want to be is in a dog pile on the mound in Fort Myers after the 4A state championship game, and while several Heritage teams have gotten close in recent years, this year's squad appears to have a swagger about them.
"We are confident that this year we can finish on top," said Berkwich. "I was there as a freshman when we lost in the semifinals, and we all have that hunger to go back and finish the job this season."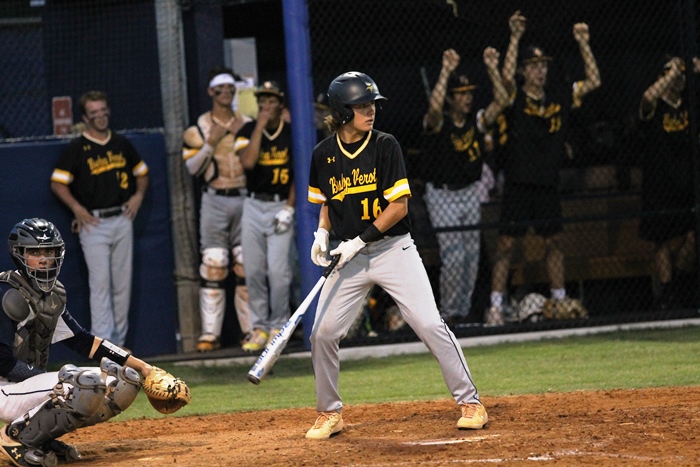 To finish that job will not be an easy task. The Stallions will host either Oxbridge Academy or Cardinal Mooney on Friday, and should they get through that game, the past two defending champions, Calvary Christian from Tampa and Broward, could be waiting for them in Fort Myers.
"Our region is not easy," said Mazza. "But we have a team that believes they can win. We have the arms to keep us in any game, and if we can get clutch hits as we have been, we are confident in what we can accomplish."
As for the Vikings, they close out a somewhat rare rebuilding season at 13-14. Flores knows there are better times ahead, and afterwards spoke about his appreciation for this senior class.
"At the end of the day I thanked the seniors for all they have done for the program over the past four years," he said. "What we are doing is much more than coaching baseball players. We are hoping that we do a good job taking these guys that come in as boys and help make them into young men that can succeed when they leave us not only on the baseball field, but in the classroom and as members of society as they build their futures."