De Ja Vu: Venice Returns To The State Finals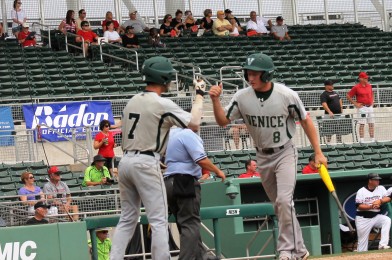 Photo Gallery
The Venice Indians are no strangers to overcoming a challenge. Along the course of this season the defending Class 6A state champions have faced some of the toughest competition, but managed to persevere to return to the state tournament for the fifth straight season.
Thursday morning in the state semifinal at jetBlue Park in Fort Myers the Indians found themselves in an unfamiliar position in trailing in a tight game against a quality pitcher in the Creekside Knights and ace Mitch Campion. The Indians stayed composed and patient and found ways to overcome, fighting back to claim a 3-2 win that advances them back to their second straight state championship.
Venice (26-5) will face Gaither Saturday afternoon in the Class 7A state final. The Cowboys (19-9) won to advance after beating Belen Jesuit 5-0 in the other 7A semifinal Thursday afternoon.
"That was a difficult game," Venice manager Craig Faulkner said. "We've been here a lot and it's our fifth year in a row, and even though it's been a long time since that happened, it is never easy. We feel very humble to be here and play such a good team and to come out on top. It could have gone either way. It was a hard-fought game and these guys are made for that."
The Knights (25-6) got on the scoreboard in the bottom of the first when Cade Westbrook doubled off starter Caleb Williams and later scored on a perfectly-executed double steal.
Despite falling behind early, Williams hung in tough to keep Venice in the game. The left-hander worked out of trouble over the next two frames and gave his teammates the opportunity to respond back.
"Our offense has come through for us a lot this year," Williams said. "When we were down I was confident that we had the bats in our lineup to come back and take the lead."
Up against a tough pitcher in Campion the Indians made some adjustments the second time through the lineup. They answered back in the top of the fourth to jump in front. Shane Shifflett drew a two-out walk and Trevor Holloway singled through the right side to put two ducks on the pond. Joe Kinker then delivered a shot deep to center field to drive in both runners for the lead.
"We knew we were going to have to stay short to the ball, because he threw pretty hard," Kinker said. "His forkball was nasty and we've never really seen a good forkball before, so we worked all week practicing hitting those so we were ready this week and more prepared. I just wanted to stay inside the ball. I knew when he got up in the count he was going to throw me a fastball and I just needed to put a good swing on it."
Rylee Buckmaster followed with a smooth liner into the left-center gap for an RBI double that plated Kinker for the deciding run.
"I just wanted to stay short to the ball and not overswing," Buckmaster said. "He left a slider up and it just sort of hung, and I stayed short to it."
Creekside responded to pull within a run in the fourth. Eli Rawlinson and Tyler Waters singled and Tyler Willis dropped down a great squeeze-bunt to plate Rawlinson for the final run of the game.
The Indians went to the bullpen for left-hander Brent Killam an inning later, and the southpaw proved up to the task in closing things out and shutting down the Knights' offense. Killam needed just 33 pitches to record the final nine outs, throwing 26 of those for strikes to record three strikeouts while not allowing any base runners.
"Creekside was a really good team with really good batters," Killam said. "I knew I had to throw strikes and I did, and it was a good result."