Canterbury Wins 2-1 In Eleven Innings In State Semifinal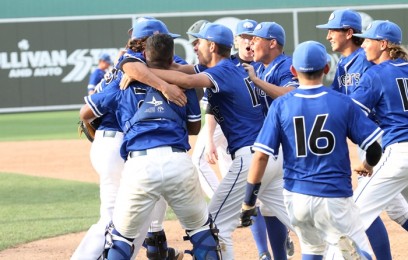 Photo Gallery
An epic pitcher's duel between Canterbury's Sam Keating and Maclay's Max McKinley provided baseball fans with eleven thrilling innings in Friday evening's Class 3A state semifinal at jetBlue Park in Fort Myers.
After pitching his team into the ninth inning, Keating scored the winning run on a mammoth shot to deep right-center field from Tyler Shuck for an RBI triple and an eventual 2-1 victory.
The Cougars (30-1) will now face Santa Fe Catholic in Saturday night's 3A state championship. The Hawks (21-9) advanced with a 3-1 win over John Carroll in Friday's other 3A semifinal.
"It was an exciting game," Canterbury manager Frank Turco said. "We battled, they battled and Max McKinley threw a great game. I was proud of our kids because we hit the ball well today, but I said all along that pitching and defense has been our mainstay and once again it held true. Once again the pitchers were the story of the Cougars and I was proud of them."
Both hurlers were outstanding on Friday night, keeping the pitch counts low and living in the strike zone to stay ahead of the batters. Keating allowed one earned run on seven hits and recorded nine strikeouts.
McKinley was just as strong, going the distance in the loss. The right-hander scattered eight hits over 11 innings, with no walks and two earned runs. He got stronger as the game wore on and seemed impossible to overcome, until Keating launched a shot deep to left-center field for a one-out double in the eleventh that set Shuck up for the winning hit.
"That pitcher was a great a pitcher and we were just excited to get that last run in," Keating said.
Michael Matter earned the win for Canterbury, coming on in relief to record the final eight outs. The right-hander allowed a hit and three walks but worked out of each jam, thanks in part to a defense that made numerous big plays behind its pitchers.
Canterbury burst out with the lead in the top of the first inning. Carter Smith singled to center, moved to second thanks to a sacrifice bunt from Cooper Swanson and next stole third. Shuck then delivered an RBI single for the 1-0 lead, as he went 2-for-5 and drove in both of his team's runs.
The Cougars had seen that McKinley had a tendency to throw strikes early in counts, so the approach was to attack early and be aggressive on the pitches they were expecting.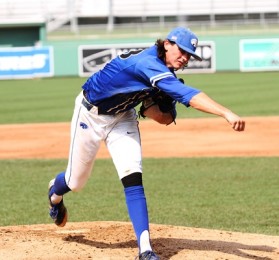 "We really studied this kid and found that he threw a lot of first-pitch fastballs for strikes," Shuck said. "We just practiced all week for that and just jumped on the first-pitch fastballs and hanging curveballs."
The Marauders (22-7) evened things up in the bottom of the first on an RBI single from McKinley. Despite plenty of base runners on both sides, the score remained deadlocked there for the next nine frames.
"I never played a game that long," Cooper Swanson said. "It is tiring but it was very exciting. I was just glad for my team in the end and it was a fun game."
Canterbury has been ranked in the High School Baseball Network Rankings all season, and the team is also nationally ranked. Carrying that recognition with them has brought out the best in the Cougars' opponents, and that in turn has only helped make them better. Now that road has them knocking on the door for a state championship.
"I just think they relish to showcase what they have," Turco said. "They have done it all year. We've gotten everybody's best and it's been a fun ride. I don't want it to end and Saturday it has to end, so hopefully it ends with us victorious. Our kids want it, they worked hard for it and they deserve it. We've just got to go out and execute. We've got to work on some things and talk about some things tonight and be ready to go tomorrow."